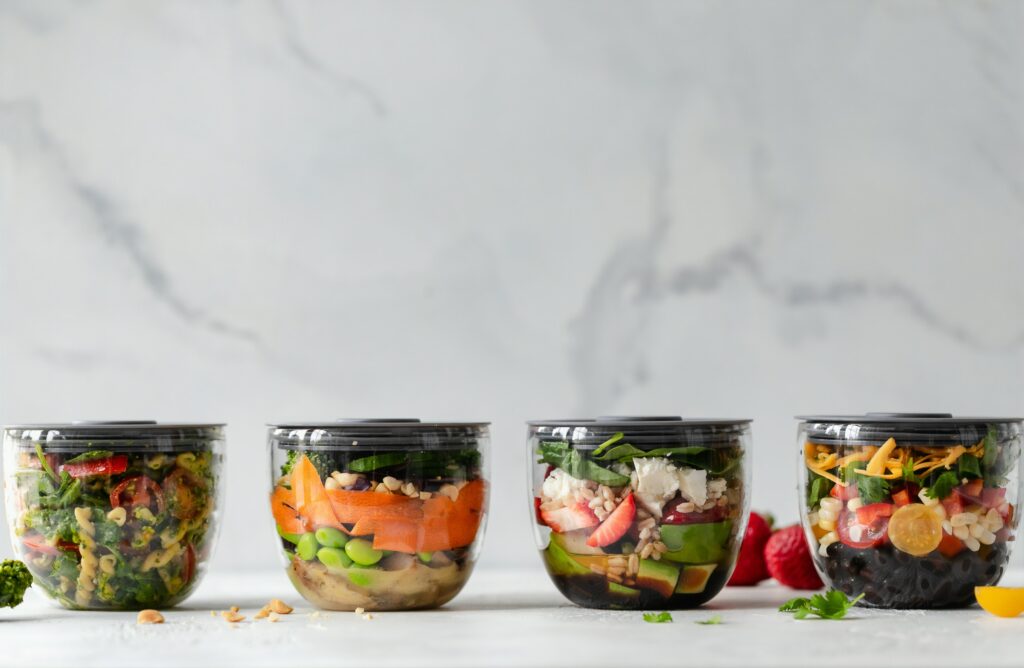 Being organised isn't always easy when you've got a hectic schedule. From early mornings to late
nights and responsibilities that take up a great deal of time, it can be hard to plan for meals or
consider adding exercise to your daily or weekly routine. But being organised doesn't have to be
difficult. Here are some ways that you can help organise yourself, your mind, and your life, and
benefit in the long run.
The benefits of meal-planning:
Meal planning can sound daunting, but in reality, it is a very easy practice to adopt that will become
second nature in no time. Meal planning essentially involves prepping meals for the rest of the
week. For example, on Sunday you could meal plan for the following week by preparing five to seven
portions of overnight oats, or pasta salads that can be kept in the fridge, or freezer. Then when the
time comes, all you have to do is grab your meal, heat it up if needed, and go on with the rest of
your day.

The benefit of this type of organisation is that it makes the rest of your busy week more manageable
and less stressful in the kitchen. When meal planning, you don't have to worry about preparing daily
breakfast, lunch, or dinner for yourself. It's less stressful and less time-consuming.

Meal planning also doesn't have to be for all three meals of the day.
If you're the type who always
struggles to get breakfast in time, then meal prepping breakfast for the following week will solve
that problem. Similarly, if you don't have time during the day to prepare lunch or dinner, having
ready-made meals is a quick and easy solution to make sure your diet is nutritious and filling even
during busy times.

If you're in need of some inspiration for what healthy recipe you could meal prep, check out this
video on homemade egg muffins. These can be stored up to three days in the fridge and you can
customise the recipe for whatever vegetables you prefer.
Scheduling in exercise:
Once you begin meal planning, the next life organisation area you could focus on is your physical
(and ultimately also your mental) health and fitness. Now that you're managing your food intake
through meal planning, organising your exercise routine is equally important, and helpful, to
maintain a healthy lifestyle.
First, you need to have a routine that isn't overly taxing. You need energy to go on with the rest of
your day and you don't want to spend it all on intense fitness routines. So, this means finding a quick
twenty-to-thirty-minute workout that you can schedule into your day. This can be running, morning
spin classes, weightlifting, or whatever makes you feel energised for the rest of your day.
If working out in a gym or going to classes isn't your thing, why not try regular walks on your lunch
break or before or after work. Maybe you can also think about splitting your commute into partially
public transport and a walk to get your daily steps in.
But where do you schedule in any additional exercise? It will probably seem unappealing at first, but
research shows that waking up early is beneficial for your daily routine. Waking up early, before your
work or responsibilities require your time, gives you extra time to spend on yourself. So, much like
meal planning, you should prepare yourself a gym bag—with a portable electric shaver, your work
clothes, and your essentials—and wake up just an hour earlier to squeeze in that morning routine.
Taking time for self-care:
An important part of being organised is taking time out for self-care – to reflect, ground yourself and
take care of your mental health. Meal planning, and exercising are aimed at improving wellness, as is
self-care. For men with busy schedules, it can sometimes be difficult to prioritise self-care. And it's
often not on the top of the priority list for many men. However, an article by BetterUp shows that
self-care benefits those experiencing burnout and who want to improve their mental health. 1
Thereby making self-care vital when organising your week.
Self-care will look different for each person. For some, it can be meal planning or exercising such as
working out or going for a refreshing walk in nature, and for others, it can be treating yourself to the
latest grooming kits, electric shavers, cologne, or more. Self-care is about finding something that not
only appeals to you, but that you can fit into your busy work week, and that ultimately makes you
feel at your best!
Overall, organising yourself and your life is all about making small, flexible changes which can
hopefully improve your well-being. Three great ways to add this structure to your busy lifestyle are:
meal planning, scheduled exercise, and self-care.
https://www.betterup.com/blog/self-care-tips-for-mental-health